One of the major financial planning issues facing retirees is the cost of healthcare.  The combination of rising medical expenses, increasing insurance costs, limited company sponsored healthcare benefits for retired workers and questions over how Medicare will be able to continue to pay for benefits as the number of eligible recipients rises creates a road map of uncertainty.  Creating a clear plan to cover healthcare costs is daunting, especially without help of a processional advisor.  Planning for healthcare costs and helping navigate the complexities of Medicare is an important service financial planners can provide to their clients.
Insightful statistics and useful information for advisors helping clients plan for healthcare costs is included in this article from Financial Advsior Magazine.
Financial Advisors Should Help Clients Plan For Health-Care Costs
Financial Advisor Magazine Online
March 4, 2013
Mary Dale Walters
The article includes four points of focus for advisors helping clients with the ongoing process of planning for healthcare costs.
"Your Clients Need Guidance, Before And After Retirement"

People are concerned about healthcare costs, yet most do not have a plan in place to save for the rising expense.  People significantly underestimate how much healthcare could cost them in retirement and do not understand how much of their healthcare costs will be covered by Medicare.  Professional advice by a financial advisor is key to help educate and prepare people for healthcare costs.  "As a financial advisor, you can offer valuable guidance to your current clients, and attract new ones, by helping them understand and prepare for the health-care costs they will face in retirement."

"Prepare Your Pre-retirement Clients For What To Expect With Medicare" Planning for healthcare costs, including information on the impact and expectations of Medicare, is an essential part of financial planning.  "It's vital that your clients save specifically for health care as an integrated part of their retirement planning. Your clients may need to be educated that, even with Medicare coverage, their health-care expenses in retirement may be substantial."  Clients need to be aware that Medicare is a complex system and requires planning and coordination before signing up to appropriately enroll and select the best coverage option.
 "Medicare Planning Is Asset Protection" For clients eligible for Medicare, advisors can help examine which coverage option is best for the client.  It is common for Medicare recipients to pay for coverage that does not result in the lowest overall cost or is not the right choice for their need.  "A senior who makes a less-than-optimal choice of Medicare coverage can end up paying hundreds, or even thousands, of dollars in extra out-of-pocket costs over the course of a year. By selecting the appropriate coverage and actively managing costs, your clients can protect their retirement savings."
 "Make Health-Care Planning Part Of Your Client's Annual Financial Review" Selecting the proper Medicare coverage is not just a onetime process; it requires continuing review and adjustments.  "Just as you periodically rebalance your client's investment portfolio, it's important to advise your clients to review their Medicare coverage every year. Plans change from year to year, as do health-care needs. A Medicare plan that worked well one year may not provide the best, most cost-effective coverage for your client the next year."
To help you learn more about Medicare, Money Tree has a free informational guide for planners, Understanding Medicare Fundamentals.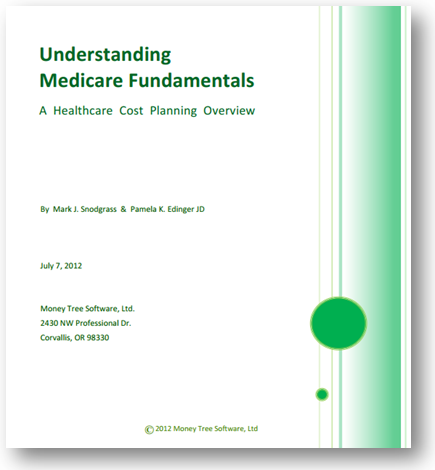 This guide help you and your clients make important decisions about various options and coverage available under Medicare. Improve your planning for healthcare cost with an increased understanding of Medicare.
The Medicare Guide addresses planning issues associated with healthcare, Medicare, and insurance coverage choices facing Americans preparing for, and managing, their retirement.
Download the Medicare Guide now!