Ameriprise Financial released their Money Across Generations IISM study, which provides financial planners insights into the behavior of women and men when dealing with financial matters involving their children and parents, focusing on the boomer generation.
Money Across Generations IISM study – Gender Differences
Ameriprise Financial
June 12, 2012
Mom Talks:

The study found women are more likely than men to have discussions with their family members about financial matters.  Of the boomers, the percent of women that feel they have adequately discussed financial matters with their parents is higher than men across all categories of discussion surveyed, as shown in this graph included in the study: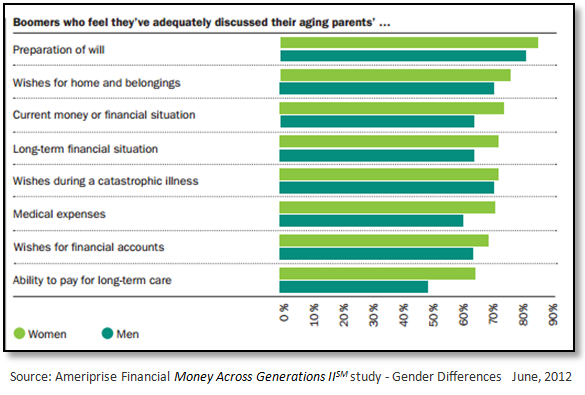 The study also found that boomer's daughters reported higher rates of feeling informed about their parents' financial matters.  "More than half of boomers' daughters (65%) and sons (56%) agree that they've adequately discussed their parent's situation."  Interestingly, considering more daughters are discussing financial matters with their parents, daughters also reported "that discussing money is very or somewhat likely to cause tension or an argument in their family (58% vs. 41%)."

Dad Pays:
Nearly all boomer parents reported supporting their adult children financially, but men are more likely to help with big-ticket items like buying a car or paying off credit cards, even if it means they would not be able to contribute to their personal retirement savings.  "Nearly equal numbers of boomer men (95%) and women (92%) say they've provided financial support to their adult children. However, fathers are significantly more likely than mothers to say they've helped their child buy an automobile (58% vs. 48%) or co-signed a loan or lease agreement (42% vs. 32%)."
Gender Roles and Concerns for the Future:
When it comes to supporting children and parents, boomers appear to follow traditional gender roles.  Women are more likely to help both their children and parents with items like cooking and cleaning while men provide more help with items like home repair and maintenance.
Women reported playing a greater role in supporting their parents compared to when this survey was first conducted five years ago.  "Two-thirds (67%) of boomers' daughters say they are providing some form of support to their parents, a substantial increase since 2007 when 48% reported doing so."  This is about 5% more than the percent of men who reported supporting their parents, but that number was about the same as reported five years ago.  Daughters of boomers are more likely to be concerned about their parents' financial position and feel more guilt about their ability to help their parents.
The study echoed findings of other recent surveys, which report that women are less optimistic about their financial future than men.  "Boomer women (14%) are significantly less likely than men (21%) to say they feel very optimistic about their own financial future. Additionally, fewer women than men say they are very confident that they will reach the goals they consider most important (16% vs. 24%)."
Takeaways:
This study helps financial planners understand the difference between men and women when it comes to financial matters, particularly those relating to boomer's dealings with their parents and adult children.  This information can help planners work to address financial priorities and concerns of both their male and female clients.
Women are more likely than men to discuss financial matters with their families, but it's clear that both men and women need to work on opening up in conversation with both their parents and adult children.
As noted in the study's abstract, planners can help their clients be aware that they "need to take a more realistic look at how the generous financial support they provide others…" as it "…may be throwing their retirement plans off track."