Silver Financial Planner's Education Funding Illustration provides the amount of annual savings required to cover education costs.  The two questions below come up relatively often about this illustration relating to the annual payment amount required to fulfill the education funding need.
Q:  The illustration shows two different required annual payment amounts.  What's the difference?  
A:  The first annual payment amount (item #1) is the required "level" annual payment.  This number is the payment required if the parents made equal or "level" payments from the current year until the last student's last year of college.  The level payment funding strategy is illustrated on the bottom of the Education Funding Illustration.
The second annual payment amount shown below the box listing the cost per student (item #2) is the required annual payment per student.  The entries in this boxed section list the required payment for each student, funded separately.  This total annual deposit amount is higher, but the amount of the deposit required would drop as each student finishes college.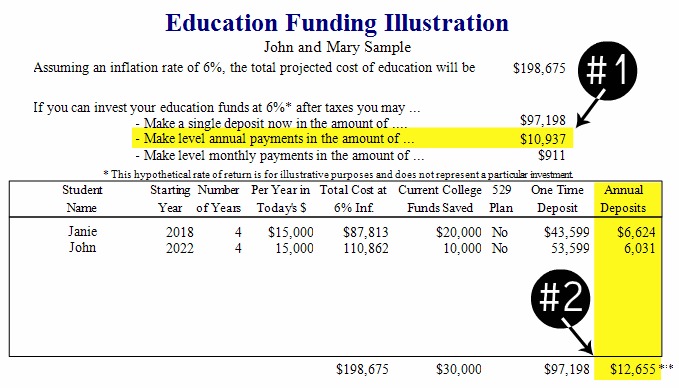 For the example above, the first level annual payment amount of $10,937 (#1) would occur from now through the last year of college in 2025, which the youngest student, John, finishes college.
The annual deposit amount of $12,655 (#2) shown below the box listing the cost per student equals the annual deposit required to fund Janie's college of $6,624 plus John's annual deposit of $6,031.  The total annual deposit of $12,655 would be required from now through 2021, the year Janie finishes college.  In 2022, the deposit would drop to $6,031, the deposit required for only John, through 2025 when John finishes college.
Q:  I added planned annual additions to education funding input.  Now I see a new line in bold with a third required annual payment amount.  How is this amount calculated?  
A:  The line in bold on the education funding report line "It appears you will need to save an additional $X each year ($Y/mo.) to fund your education plans" (item #3) is calculated using the annual deposits for separate accounts, reduced by the total planned annual addition amount.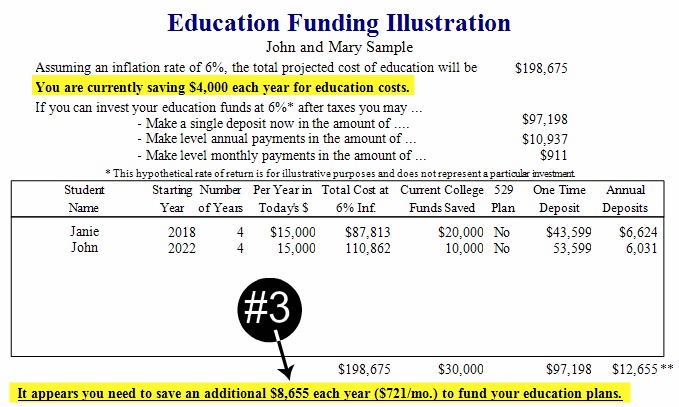 For the example above, the amount displayed in bold (#3) is taking the total annual deposits of $12,655 (listed under the first box, this amount is assuming the account deposits are kept separate) less $4,000 they are already saving entered in the "planned fund additions" field under Education Funding, leaving an additional deposit of $8,655 each year ($721/month).
Do you have a question about Silver?  Please don't hesitate to contact our support team by phone (877) 421-9815 or email support@moneytree.com.