Rates of return in the TOTAL Planning Suite can come from four different places:
Assumptions
Asset Details
Asset Rate Changes
Assumptions (Post-Retirement Rates)
The rates assumptions are listed in order of priority from lowest to highest; higher priority will overwrite lower priority return assumptions.
1. Assumptions
If you do not enter rates of return in the Asset Details input, the program will pick up the default rates (circled in blue) from the Assumptions section. These are found on the "Retirement Assumptions" sub-tab as shown here (circled in red).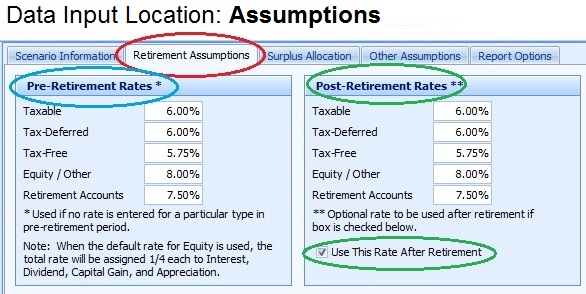 2. Asset Details
As soon as you enter a rate for an asset in the Asset Details section, any other asset of the same TYPE (taxable, equity, tax free, etc.) will look to the Asset Details input for the rate of return and no longer pull from the assumptions section (circled in orange). If you have an asset of the same TYPE, but neglect to put in a rate of return, it will be zero. i.e. the program will NOT use the default rate if there is any asset of that type with a rate of return. Assets of other types will still pull from the default rates until a rate of return is entered in their type.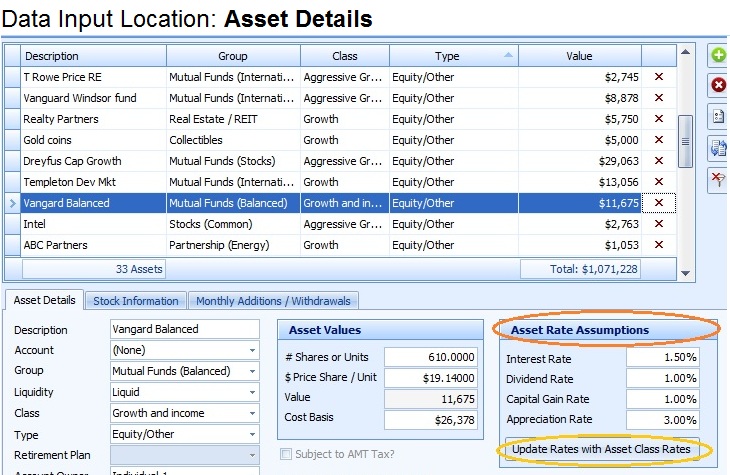 The Asset Details section also has the button Update Rates with Asset Class Rates (circled in yellow). If you click that button, that asset's rate of return will be populated in the Asset Details section based on the Asset Class selected. This is a fast way of filling in asset detail rates of return.
3. Asset Rate Changes
Within the Assets Summary section under the Rate Change tab, you can designate specific rates of return to be used for the different asset TYPES at a point in the future using the age-change table to specify at what age you want the rate to change (circled in purple). These will override the Asset Details rates.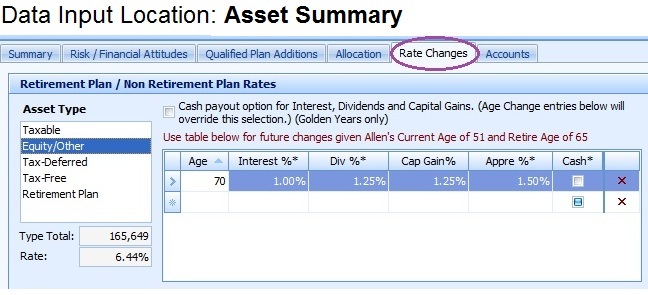 4. Assumptions – Post Retirement Rates
The final and most powerful setting is found in the Assumptions section under the Retirement Assumptions sub-tab. When the check box under the Post-Retirement Rates table is clicked, these rates (circled in green in the first image) will be used overwriting any of the setting above. Leave unchecked to use the rates of return specified in any of the above three settings.