Selling can be scary for many people. It's often related to how people feel when they're being sold to. In your practice, you're going to be responsible for sales to acquire customers. The "trick" to beating this fear is taking on a different outlook and focus on sharing your knowledge and valuable insights to help your customers.
The challenge of working with an individual or couple and convincing them that a comprehensive plan is in their best interest is no simple sale. You must establish the value of the information you're providing, and you need to close the customer and receive payment that reflects that value.
So, why the Challenger Sales method? The method establishes a framework that allows your insight and expertise to become the differentiator to help engage and win over new clients!
And, full disclosure, I do not work for Gartner nor am I being paid to tout their sales process. I have personally used this sales methodology for over a decade and can attest to its success.
A Challengers Sales professional is defined by their ability to do 3 things:
Teach for differentiation
Tailor for resonance
Take control of the sale
What is it about your financial planning skills and services that attract new clients? What do you know about the market, investments, economy, consumer behavior, or any other facet of the industry that would be helpful to potential clients?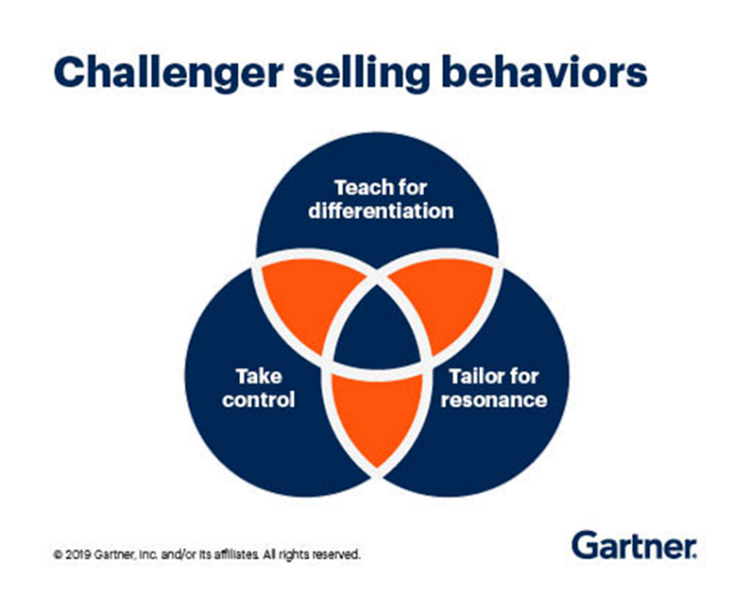 On Teaching for Differentiation
You learn how to establish your unique strengths and how to convey them to your customer. There is a method to bring ease into the process so you're sharing more about your knowledge and your expertise that comes with experience.
Learn how to teach for differentiation.
On Tailoring Plans to Resonate with Your Clients
Getting to know your customer is how you can really help them with a tailored approach to their goals. An advisor needs to take the time to understand the needs of their clients and present data that is relative to their specific life journey. You wouldn't give them a general plan you show everyone else!
Tailoring is focusing on the key objectives or mission of your clients as a individual, couple, or business. Build a relationship with the right party. You wouldn't build a plan for an individual when you're working with a couple. You can create tension or lose an opportunity for a lifelong partnership.
Learn how to tailor to goals for resonance.
On Taking Control of Your Sales Process
Most people think of being aggressive when they hear the words "take control." This couldn't be farther from the truth. Taking control is more about confidence in your process and the plan you share with your clients. You understand when to build momentum, when to "pump the brakes", and when to close the deal to go to the next step.
Learn how to take control of your sales process.
Final Thoughts
You have something of great value to offer your prospects and clients. Don't believe me—just ask one of the 89,000 CFB Board financial planners—an entire association devoted to planning! Let's focus on insight and expertise because it's not what you think. You're no espousing knowledge on investments, rates of return, or portfolio mix. According to Gartner, Challenger sales professionals use their understanding of their customer's business to deliver new insights and drive their thinking in new and different ways. Your customer's business is their financial prosperity, and no one knows more about how to get them there than you do.