---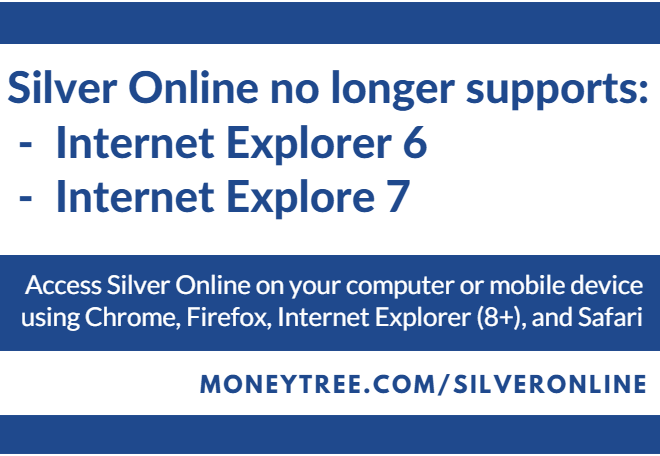 You can access Silver Online on your computer or mobile device through Chrome, Firefox, Internet Explorer, and Safari.  Silver Online supports current and prior releases of those browsers, however we are ending our support for IE6 and IE7.  Few customers will be impacted by this change as the versions no longer supported are several years out of date.
Browser support changes
Silver Online will no longer support:
  –  Internet Explorer 6 (released in 2001)
  –  Internet Explore 7 (released in 2006)
A summer release of Silver Online includes new features that are not compatible with IE6 and IE7. Microsoft no longer supports IE6 and plans to stop support on IE7 in January of 2016. We are ending our support due to the fact that IE 6 and IE7 are less secure and are not compatible with modern programming applications.
What this means to you
If you continue to use IE6 or IE7 browsers, some features of the software may not appear correctly or no longer function as expected.
How to check your version if you use Internet Explore
–  Open IE by clicking the icon your taskbar or desktop.
–  Click the tools button (or click the Help item from the menu bar) and select "About Internet Explore."
–  The version number will be listed.  Any version 8.0 and above is supported.
If you are running IE6 or IE7
We recommend you install the latest version, IE 11:
–  Get latest IE 11:  http://windows.microsoft.com/en-US/internet-explorer/download-ie
You may also install an alternate browser such as Chrome or Firefox:
–  Get Chrome: https://www.google.com/intl/en/chrome/browser/desktop/index.html
–  Get Firefox: https://www.mozilla.org/en-US/firefox/new